Life Insurance
We will provide design and services of employee benefit and welfare plan of company !
Insurance Arrangement for the foreign companies in Japan
We specialize in providing localized service for global companies and organizations with business interests in Japan who have global insurance programs, based on your master policies.
We are an independent general insurance agency providing international individual and group benefit plans from leading health insurance companies and non-life insurance companies.
Employee Benefit
While diversification of human resources proceeds, it is possible to adjust the welfare system employees of each hierarchy can work with peace of mind.

And it is directly connected to motivation of reduction and economic and mental anxiety factor of income from health and life on the risk.

We will support the growth of the company through optimization of benefit plans that are tailored to the needs of our customers.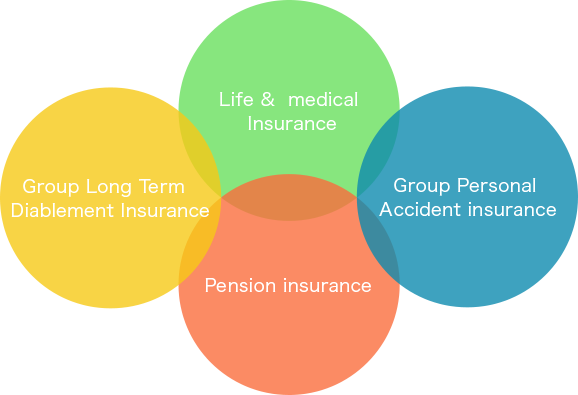 Effective use of Management's Insurances
Widen the choice to deal to the risk of being predicted in management each stage of stability, development and inheritance of the company.
■ Life and Medical the type of insurance is paid to the company
Term Life Insurance (without surrender value)
Income Security Insurance
Medical Insurance, Cancer Insrance(full time payment )

■ Insurance with function of savings
Long-Term Level Term Life Insurance
Increasing Term Life Insurance
Cancer insurance (life type)
Whole Life Insurance
And we provide the Best Life Insurance for Individuals Please contact us !!
Review of the Life Insurance Contract
For your Life Insurance contracts, you can review along the following check points;
1. Guarantee Amount ?
Insured Amount should be taking into survivor's pension amount and death retirement-savings amount
2. Insurance Period ? / Overlap ? etc
Overlap of security (overlap with the accident insurance and health insurance and public insurance), unnecessary rider, insurance payments grounds and disclaimers, insurance period and the guarantee period, automatic update other
3. Insurance premiums / premium payment period ?
Insurance premiums are commensurate with the current revenue
4. Surrender value ?
Cash surrender value amount, the current interest rate
5. Beneficiary and insured ?
Beneficiary, insured, beneficiary designation
For more details on products and services available, please contact us we will provide the Best Life Insurance Planning for Individuals
Insurance Company
NON-LIFE INSURANCE
Chubb Insurance Company
AIG Insurance Company
Hitachi Capital Insurance Company
Mitsui Sumitomo Insurance Company
Aioi Nissei Dowa Nihon Koa Insurance Company
LIFE INSURANCE
MetLife Insurance Company
Sompo Japan Nihon Koa Himawari Life Insurance Company
Nihon Life Insurance Company